Prizing Closeness Diwali Cluster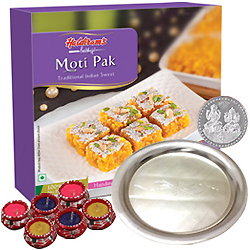 Free Shipping
Assured Delivery
Safe Shopping
24x7 Customer Support
Order this Prizing Closeness Diwali Cluster as an endowment of your deep-felt Diwali admirations for a family you look upto and thus conquer a pleasurable existence within the family. This emotion-sweetening Assortment is loaded with 1 agreeable Box of Haldirams Moti Pak Sweets, 6 dapper Earthen Diyas, 1 choice Laxmi Ganesha Silver Plated Coin and 1 cultured Silver Plated Thali.
Delivery Time : 2-3 Working Days.
Small Towns and Villages may take more time depending on location.