Alluring Opulence Diwali Ensemble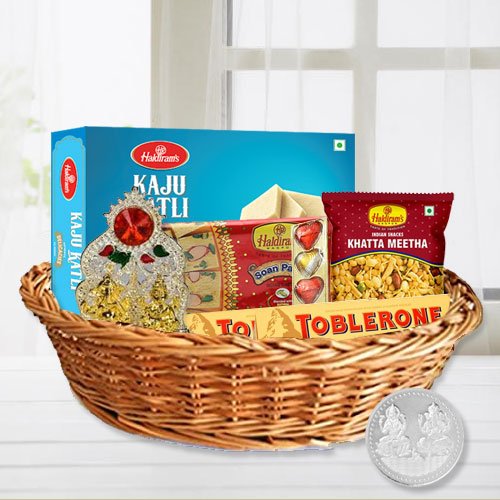 Free Shipping
Assured Delivery
Safe Shopping
24x7 Customer Support
When work compulsions impel you to stay away from your wife and children on the day of Diwali, deliver this Alluring Opulence Diwali Ensemble to them and let them realize your desirable presence within them. This mood-filling Collection presents a Basket filled with 250 gm (Gross Weight) Haldirams Soan Papdi, 250 gm (Gross Weight) Haldirams Kaju Katli, 250 gm (Gross Weight) Haldirams Khatta Meetha Mixture, 2 Pcs Toblerone Chocolates, 5 Pcs Homemade Chocolates, 5 Dairy Milk Chocolate Bars, a Laxmi Ganesh Mandap and 1 Free Laxmi Ganesh Silver Plated Coin. Note: Basket texture may differ in accordance to availability.
Price: Rs. 1718 / $ 24.54
Delivery Time : 2-3 Working Days.
Small Towns and Villages may take more time depending on location.