Enthralling Bouquet of Admirable Flowers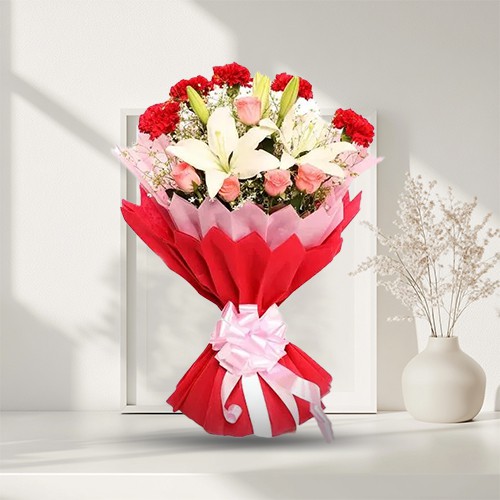 Free Shipping
Assured Delivery
Safe Shopping
24x7 Customer Support
Guaranteed Same Day Delivery
Select Options :
Pat the heart of your beloved with your heart-nurtured warmth by presenting this Enthralling Bouquet of Admirable Flowers and make your beloved feel pampered. This Bouquet features magical Flowers like 4 Red Roses, 5 Red Carnations and 2 White Lilies.
Price: Rs. 895 / $ 12.79
Make the day a winsome one for your adored one by gifting him/her this Festal Bouquet of Stunning Blossoms amid a busy monotonous day and inflate the distinctive heart with pure joy. Refreshing Blossoms such as Red Carnations (5), White Lilies (2) and Red Roses (4) are presented in this Bouquet with 16 pcs Ferrero Rocher.
Price: Rs. 1875 / $ 26.79
Earliest Delivery : Tomorrow
Remote location may take one day more