Titillating Bunch of Wondrous Flowers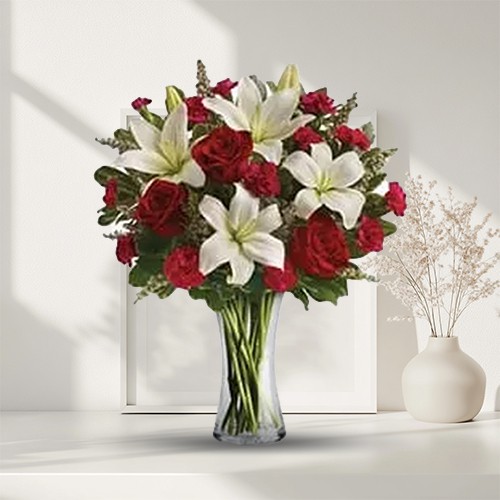 Free Shipping
Assured Delivery
Safe Shopping
24x7 Customer Support
Guaranteed Same Day Delivery
Select Options :
When due to work pressure communication between you and your partner gets hampered and distance between you two gets increased, at that agonizing juncture, pick this Titillating Bunch of Wondrous Flowers and send it to your partner with your message of affection. Soul-greeting Flowers such as Red Roses (5) and White Lilies (4) and pristine Fillers encompass this Bunch. Note: Vase is not included.
Price: Rs. 1080 / $ 15.43
Convey your message of reverence to a heart you cherish with this Spruce Collection of Breathtaking Blossoms and gorge that heart with delight of love. This Collection showcases pretty Blossoms that is to say 4 White Lilies and 5 Red Roses and dapper Fillers with Small Cadbury Celebration. Note: Vase is not included.
Price: Rs. 1295 / $ 18.50
Earliest Delivery : Today
Remote location may take one day more