To send gifts for Instant Delivery during lockdown in India: Click Here
Product Details
Delightful Floral Basket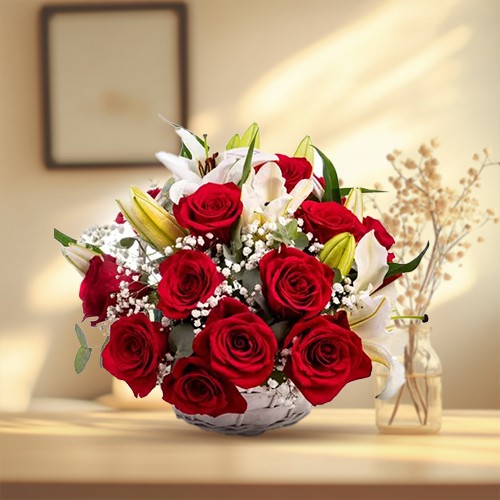 Free Shipping
Assured Delivery
Safe Shopping
24x7 Customer Support
Guaranteed Same Day Delivery
Select Options :
Cheer up the worn-out-by-work disposition of your endeared one with this present of Fanciful Special Premium Arrangement of Rapturous Flowers and fill the individual's core with floral freshness. Divine Flowers like Red Roses (10) and White Lilies (3) complete this Special Premium Arrangement. Note: Wooden Basket may vary.
Price: Rs. 965 / $ 13.79
This Shimmering Special Premium Arrangement of Sunlit Blossoms is a perfect souvenir for esteeming the home-return of a successful mountaineer and conveying to the person your heart-felt wishes for his/her triumph. This Special Premium Arrangement exhibits sublime Blossoms such as 5 White Lilies and 15 Red Roses. Note: Wooden Basket may vary.
Price: Rs. 1465 / $ 20.93
Earliest Delivery : 14-Apr
Remote location may take one day more