Impressionable Rakhi Gift for Celebration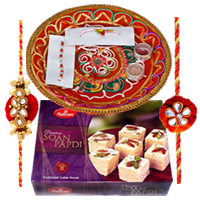 Free Shipping
Assured Delivery
Safe Shopping
24x7 Customer Support
Select Options :
Rakhi Thali with 1 Rakhis, 200 Gms. Soan Papri from Haldirams
Price: Rs. 659 / $ 9.41
Order online for your brother or any dear person staying at a distance this Impressionable Rakhi Gift for Celebration on Raksha Bandhan to convey your best wishes for their prosperous future. This amazing Gift is decked Rakhi Thali with Rakhis, Haldirams Soan Papdi.
Price: Rs. 715 / $ 10.21
Rakhi Thali with 3 Rakhis, 200 Gms. Soan Papri from Haldirams
Price: Rs. 771 / $ 11.01
Rakhi Thali with 4 Rakhis, 200 Gms. Soan Papri from Haldirams
Price: Rs. 827 / $ 11.81
Rakhi Thali with 2 Rakhis, 400 Gms. Soan Papri from Haldirams
Price: Rs. 1051 / $ 15.01
Rakhi Thali with 3 Rakhis, 400 Gms. Soan Papri from Haldirams
Price: Rs. 1107 / $ 15.81
Rakhi Thali with 4 Rakhis, 400 Gms. Soan Papri from Haldirams
Price: Rs. 1163 / $ 16.61