Extravagant Thali with Rakhis and Array of Dried Fruits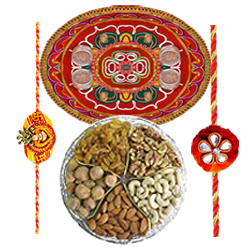 Free Shipping
Assured Delivery
Safe Shopping
24x7 Customer Support
Select Options :
Rakhi Thali with 1 Rakhis and 100 Gms. Dry Fruits (Cashew and Raisin)
Price: Rs. 493 / $ 7.04
For the wonderful Raksha Bandhan, grab this Extravagant Thali with Rakhis and Array of Dried Fruits to shower your loved people with happiness and your prayers. It consists of Cashew and Raisin.
Price: Rs. 554 / $ 7.91
Rakhi Thali with 3 Rakhis and 100 Gms. Dry Fruits (Cashew and Raisin)
Price: Rs. 593 / $ 8.47
Rakhi Thali with 4 Rakhis and 100 Gms. Dry Fruits (Cashew and Raisin)
Price: Rs. 654 / $ 9.34